One of my favorite bloggers is having a link-up! Michelle at
a little bit of this & that
created a fun link up to show off where you live! It is such a great idea. Click on the button to join the fun!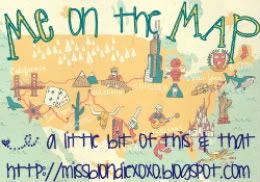 I live in Martinez, California. It is a relatively small town about 30 miles northeast of San Francisco. I have lived here my whole life except when I went to college in Los Angeles. There really isn't much to do here. Basically everything (fun) is in the neighboring cities. I didn't even go to the high school in Martinez, I went to the one in the next town over thanks to the district lines. I do love where I live though. It may seem a bit boring but I think it is the best of both worlds. You are close to a major world city but live in the suburbs which is a great place to grow up and raise a family.
There are a few things you should know about Martinez. Most importantly we believe that this is where the martini was invented. There are a couple of stories of how it was invented: one is that a San Francisco bartender invented the drink and named it after his East Bay hometown, and the name was eventually changed to its current form. The other story says the martini was born in a bar downtown. Either way, we feel that it's ours! Feel free to wow your friends next time you are enjoying martinis with this piece of information!
Martinez was home to two famous residents: John Muir and Joe DiMaggio.
John Muir lived in Martinez after he married his wife in 1880. If you aren't familiar with John Muir; he was a naturalist and early preservationalist of wilderness. His activism helped save Yosemite and Sequoia Nation Park among other. He founded the Sierra Club, which is now one of the most important conservation organizations in the United States. He is also on the back of "our" (California's) quarter.
Statue of John Muir in a local park.
John Muir's house which is a National Historic Site. This was his house but he considered the Sierra Mountains his "home". In the fourth grade we had a field trip here but I was sick that day and didn't end up going here until I was in the 7th grade on my own with my family. The crazy thing is I would pass it every day since it was on my way to swim practice.


Joe DiMaggio was born here in Martinez and played baseball for the New York Yankees in the 1930s and 1940s. He even married Ms. Marilyn Monroe. Unfortunately it didn't last but he had a half-dozen red roses delivered 3 times a week to her crypt for 20 years. He passed away about 10 year ago. My mom and I met him once while we were having frozen yogurt. He was taking his granddaughter to get some and I honestly had no clue who he was but my mom did. Looking back on it, it was neat that I got to met him even if I didn't know who he was then.
Joe in his Yankee uniform. DiMaggio's bakery - Marilyn supposedly came here - is now Victoria's Cafe downtown.
This picture really has nothing to do with Martinez but I loved it so I included it.
Martinez is definitely the type of place where everybody knows everybody if you live downtown. While I don't live downtown I was on the swim team and everybody on the swim team lived downtown so I got to meet a lot of people that way. There isn't much downtown besides antique shops, a few restuarants, and the court house. Martinez is the county seat so we have the court house, jail, and all that fun stuff. There is a nice marina area which is a great place to go on a nice day and just enjoy the scenery.
Hope you all enjoyed learning about my hometown! Go link up with Michelle and tell us about where you live!