While I don't have a boyfriend, I definitely felt the love yesterday. My parents just gave me money which isn't a fun Valentine gift but it's still something. My daddy made us girls (me, my mom, and my sister) a really nice dinner. My sister got me a few things. She got me these cute Valentine light up cups one of Mickey &; Minnie and the other of Snoopy. She also got me a mini-box of chocolates, a necklace from Forever 21, Red & Yellow Tic-Tacs, and the movie When In Rome. It was a pretty low key night and I just enjoyed one of the heart cupcakes I made and watched Greek (I can't believe there are only 3 more episodes left...so sad).
I decided to link for Top 2 Tuesday today since it's the Top 2 Grammy Fashions.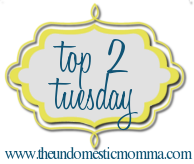 1. Selena Gomez. She looked beautiful! I loved everything about her look. She didn't look trashy like others her age (aka Miley Cyrus) and she look so put together and appropriate for her age and the event.
2. Keri Hilson. I love the color of this dress with her skin tone. It's such a fun mini-dress that works perfectly for the Grammys. I really want the clutch she has.
If you want to share your top 2 Grammy Dresses, then link up
here
!
Hope you all had a fun Valentine's Day with whoever you spent it with!